Music is a powerful tool to immerse yourself in a language, it's fun, entertaining, it uses the local language/accent and it gives you a touch of the culture. I've put together this list of 17 brands and singers to help you learn Spanish.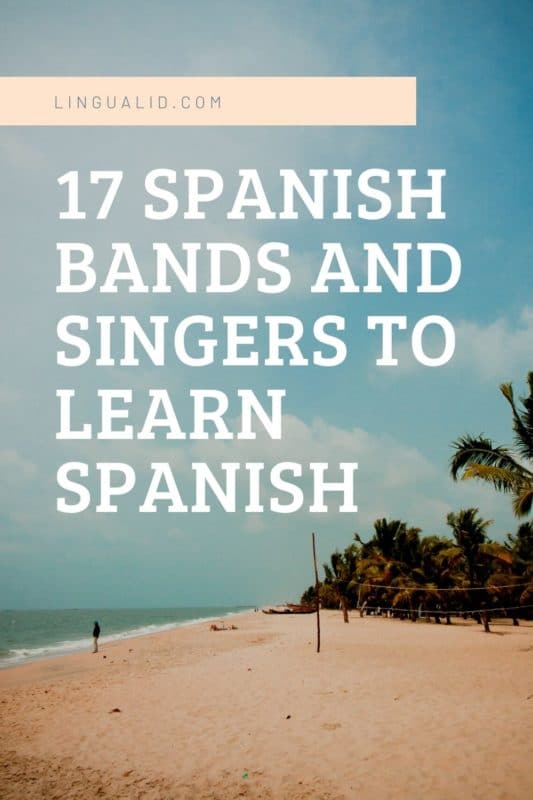 1 – Natalia Jiménez
Natalia Jiménez is a Spanish singer-songwriter. Her powerful voice and musical versatility have made her one of the most important female figures of the song in Spanish. Creo En Mi, one of my favourite songs of her, to be honest I love singing along with it, despite my beautiful voice lol
2 – Residente
Residente, is a Puerto Rican rapper, writer, filmmaker, and also one of the founders of the Puerto Rican rap group Calle 13. He has won four Grammy Awards and 25 Latin Grammy Awards, language lovers! in this song there is French too!
3 – Kurt Schmidt Ramos
Next is Kurt, Mexican, plays guitar and sings about "The perfect woman" :
4 – Alvaro Soler
Álvaro Tauchert Soler is a Spanish-German singer. He rose to prominence across Europe and Latin America with his 2015 hit "El Mismo Sol" but what I prefer the most is Sofia, I remember how I was singing: mira sofiaaaa, nananananaa (out of lyrics)
5 – Rosalía
Rosalía, is a Spaniard singer and songwriter. Initially known for her contemporary interpretations of flamenco music, Di mi nombre, is my favourite
6 – Camila
Another Mexican band for you, this song is really slow to make you get every word
7 – Julieta Venegas
Julieta Venegas Percevault is an American-born Mexican singer, songwriter, instrumentalist and producer who sings pop-rock in Spanish. She speaks English, Portuguese, and Spanish fluently, probably visited my blog, okay "me voy" :
8 – Melendi
Melendi, is a Spanish pop singer-songwriter that has sold more than 3,500,000 discs during his career. His specialties are rock, flamenco, and rumba styles. different styles, I like that.
9 – Jesse & Joy
Jesse & Joy is a Mexican pop duo formed in 2005 by brother and sister Jesse and Joy, in Mexico City. I'm a big fan of them, I love all f their songs, here is one
10 – Marc Anthony
Marc Anthony, is an American-born Puerto Rican singer, songwriter, actor, record executive, television producer and philanthropist. Anthony is also the top selling tropical salsa artist of all time. One of the songs that i spammed my latin friends with (sorry mates, not really sorry haha)
11 – Morat
What I love about this band, is that they did many collaborations with other singers that I like, that's how I knew them, listen to this, and dance "cuando nadie ve"
12 – Aitana
She's a Spanish singer, songwriter and model.. Just listen
13 – Juanes
Juanes, is a Colombian musician and singer-songwriter, in this song he worked with Alessia Cara, I hope she sings again in Spanish
14 – David Bisbal
I love this combination of European and Latin Spanish with Greeicy.
15 – Sebastián Yatra
He sings reggaeton, but this one is not
16 – Enrique Iglesias
Two different accents, what else can you ask for?
17 – Bomba Estéreo
Y no te preocupes si no te aprueban
Cuando te critiquen, tú solo di
Soy yo

Bomba Estéreo
So that was my list of 17 brands and singers to help you learn Spanish, I had so much fun making it, I hope you like it and that it would help you.